Hybrid voting with
a better paper trail
Verity Hybrid Voting Solution
Verity Duo
Transparent ballot marking
Verity Scan
Secure vote capture
Transparent Touchscreen
The Verity Duo ballot marking device (BMD) creates a paper record that tabulates votes from human verifiable information, not a black box barcode. Duo delivers an intuitive touchscreen voting experience and the reassurance of a printed, paper vote record for end-to-end auditability.
Hassle Free Paper Trail
Verity Duo handles thousands of electronic ballot styles without pre-printing traditional paper ballots. Duo eliminates voter intent issues seen with hand marked paper.
Learn more
Verity Duo
Verity Scan
Secure Scanning
Verity Scan ensures reliable audits of voter intent and enables fast recounts, with digital capture of full images of scanned ballots. Voting data and audit logs are stored in redundant, physically separate locations.
True Verifiability
This means the scanner reads and records the same words the voter verified, ensuring 100% voter verifiability.
Learn more
Building a Better Paper Trail
No voter choices in barcodes
Bilingual ballot summary
Full size ballot for a better voter experience and cost savings
100% Voter Verifiable
Get more from Verity
Verity Duo optional partner products deliver additional efficiencies and ease of use functionality for the best voter experience possible. Get more out of your Verity Hybrid Solution.
Verity Controller
Centralized poll management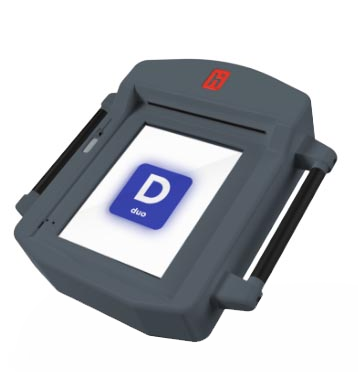 Verity Duo Go
Portable ballot marking
Efficient Error Proofing
Verity Controller delivers unmatched time savings. The centralized poll management system reduces poll worker touch points with the ability to program 1 master device for every 12 individual voting devices. This minimizes opportunities for human error and ensures your elections are set up accurately and quickly.
Streamlined Processes
Verity controller simplifies poll worker tasks. Automated ballot management ensures fast and accurate check in for voters and reduces poll worker tasks. Poll workers have complete visibility to any issues in the polling place
Learn more
Verity Controller
Verity Duo Go
Everywhere for Everyone
The first and only purpose-built device of its kind, Duo Go delivers a portable voting technology that guarantees every voter a paper vote record, no matter where they are. No separate technologies for voters of different needs and no compromises on equality of the voting experience.
Portable Papertrail
Verity Duo Go is 22% smaller and weighs 42% less than other curbside or mobile voting solutions. The compact size, intuitive touchscreen interface, full array of accessibility features, and flexible placement options for the carrier and accessible controls allow for the most convenient ballot marking/printing method for anywhere voters.
Learn more